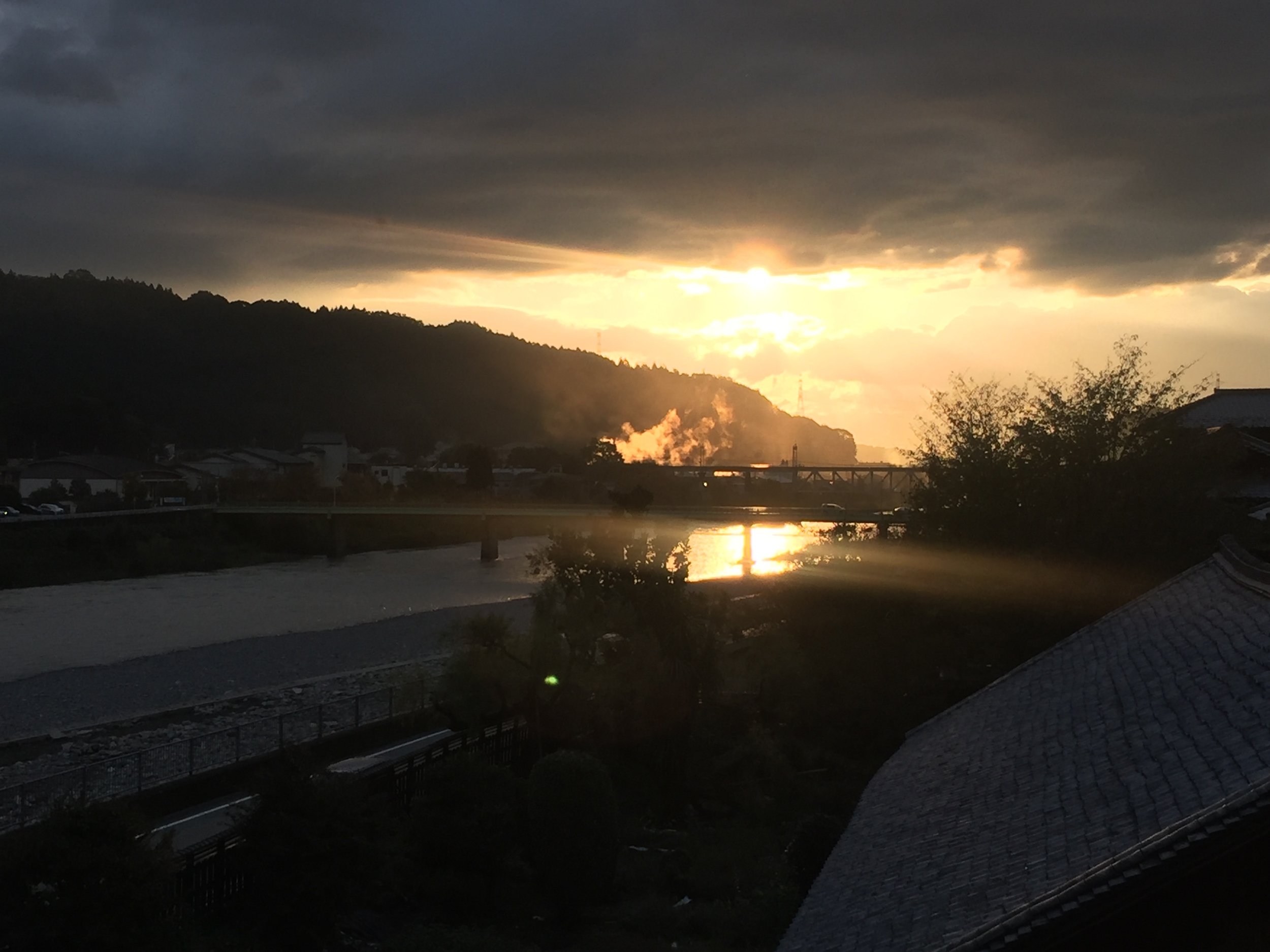 The Sunrise Room
Are you early to rise? Up to three people can experience the sunrise room, with easterly views of the Yoshino River and the joy of morning light. Downstairs you can meet local people and fellow travellers, get information about the town or to enjoy local cuisine together. Hot tip: the morning coffee is amazing.
The Sunset Room
There is nothing better than the warm glow of the evening sun. Up to four people can stay in the sunset room, with westerly views of the river. Connect with locals and other guests downstairs, learn about things to do in town or enjoy a community meal (or the local sake). Hot Tip: The sushi place next door will make you a great selection of fish caught in the river and wrapped in persimmon leaves.
Location
Yoshino Cedar House is located on the bank of the Yoshino River, in a beautiful valley and flowing river. It used to be the site of an old timber-inspection office - logs would be floated downstream, stop in front of the building to be checked, before making their way to Osaka.
Yoshino Cedar House
Yoshino-Cho Iigai 624
Yoshino-Gun, Nara, Japan
639-3113
639-3113
奈良県吉野郡吉野町飯貝624
吉野杉の家
Located in the heart of Nara, there are numerous ways to reach Yoshino. Many guests stay at the Yoshino Cedar House while traveling through Japan, especially between Osaka and Kyoto. Below you can find a number of ways to reach Yoshino. If you have any concerns, connect with the cooperative hosts who can help guide you to the house.
By Plane
The two nearest airports are Kansai Airport (KIX) and Itami Airport (ITM) served by all major airlines. You can also fly to Tokyo and use the excellent rail network.
By train
Your destination station in Yoshino is Yamoto Kamiichi Station.
From Tokyo
Take the shinkansen from Tokyo Station or Shinagawa Station to Kyoto. (2.5 hours to Kyoto) Trains to Kyoto run several times per hour.
From Kyoto
1. From Kyoto Station take the Kinsetsu-Limited Express to Kashiharajingu-Mae Station (52 minutes) change.
2. From Kashiharajingu-Mae Station take the Kinsetsu-Limited Express to Yamoto Kamiichi Station (42 minutes)
Trains to Yoshino run every hour.
From Osaka
From Osaka-Abenobashi Station take the Kintetsu-Minamiosaka Line to Yamoto Kamiichi Station (71 minutes).
Trains to Yoshino run every hour.
From Kansai International Airport
1. From Kansai-Airport Station take the Kansaikuko Line, which is directly connected to the Hanwa Line, for Tennoji/Kyobashi to Tennoji Station. (about 55 minutes) Change.
2. Walk 3 minutes from Tennoji Station to Osaka-Abenobashi Station.
3. From Osaka-Abenobashi Station take the Kintetsu-Minamiosaka Line to Yamato Kamiichi Station (about 70 minutes).
By Car
Yoshino is easily accessible by car, from Osaka (80 minutes), Kansai Airport (86 minutes) and Kyoto (92 minutes).
Parking is available near to the Yoshino Cedar House.
By Bicycle
Yoshino is a popular cycling destination for long-distance bicycle riders coming from Osaka (60km) and Kyoto (75km). Ride down, stay one or two nights, ride back. There are ample, high quality riding roads in and around Yoshino, surrounded by lush forests and lakes.
When you get to Yoshino
Most people take the train to Yamoto Kamiichi Station.
From here it is an eight-minute taxi ride, or a 20 minute walk through the historical Yoshino old town. You can also rent bicycles next to the station.
top stays on airbnb before and after yoshino